Vibrantly Staging Medicine
Medical animations and illustrations are powerful, widely accessible and capable of explaining even the most complex content in an easy-to-understand manner. This power of images is the basis of the work of Gebrüder Betz.
In an aesthetically pleasing and easy-to-understand way, our medical animations, images and VR-applications provide visualization of medical content. To this end, Gebrüder Betz combines professional medical knowledge and outstanding creative expertise in a storyboarding, 3D-modelling and art direction-process optimized for the particular needs of of the healthcare sector.
Our sophisticated images, medical animations and VR-solutions make medical innovation tangible, enhancing our clients' standing in the healthcare market.
Excellent Medical 3D-Design
Medical animations and illustrations offer insights into the human body that are simply not possible with normal film recordings. Complex processes in healthcare, medicine, pharmaceuticals and biotechnology are visualized as animations or illustrations in a way that viewers perceive as aesthetically pleasing, easy to understand and thus accessible. This applies to specialist audiences such as doctors as well as medical laypeople such as patients.
Appearance plays a central role in the successful communication of medical animations and illustrations. Fully realistic insights into the interior of the human body, and in particular into pathological changes, may be perceived as unpleasant to the point of repulsion.
Therefore, the basis of any good life science 3D visualization is a balance of realism and idealization! A realistic, technically correct representation lends scientific credibility to the animation or illustration. Idealizing elements such as a focused storyline and an impressive design ensure that the audience understands the content well and enjoys looking at the images.
Gebrüder Betz is one of the leading agencies for the development of excellent medical 3D design in German-speaking countries. This was evident in 2018 when we won the German Brand Award and in 2022 when we participated for the first time in COMPRIX, the most prestigious healthcare communications award in Europe: two medical animation films were submitted by us and each of these entries was awarded as a finalist!

Click here for the award entry: Excellence in Brand Strategy, Management and Creation | Brand Creation - Storytelling & Content Marketing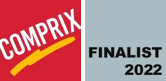 Click here for the list of finalists - Category PM HCP 10 - Digital Media